ManyStories continues to grow in popularity. ManyStories is where writers, regardless of where they publish, share their stories and engage with their readers.
We continue to monitor the growth of the platform and build the features we believe will best serve the writers and readers in our community. Today, I'm happy to share two new developments.
Before we dive into the recent updates, let's take a quick look at some stats that show where we are and where we're heading.
Waitlist
We have welcomed in over 2,400 writers into our community, while, unfortunately, turning away 750 others who were not a good fit to the kind of community we are building together. The waitlist is still growing, and we continue to periodically admit new writers. Thanks to everyone who has been patiently awaiting their turn to join us.
Readers Following Writers
Readers are increasingly following writers. We have three writers with above 400 followers, four above 300, 12 above 200, 40 above 100, and over 160 writers with over 50 followers here on ManyStories. Many more of our writers have at least 30 followers. Every week, there are about 700 more follow relationships developed between writers and readers.
Reading Time

Since we started tracking active reading time on stories just over a year ago, readers have actively read stories on ManyStories for about 115,380 minutes. This comes out to about 1,923 hours of reading time. That may or may not seem like a big deal to you, but we are excited about the pace by which this number is growing.
New Stuff
We are at the beginning of our story, and we plan to continue to write each page deliberately to put together meaningful chapters.
Our next chapter will include a network beyond of ManyStories, powered by the stories that our writers share with their readers here and around the internet.
Related Stories Network ™
We are building a network for writers to mutually benefit from one another's growing audience around the internet, outside on ManyStories. Readers of a story on a writer's website will be shown related stories from other writers in the network.
If you are already sharing stories on ManyStories, you can join the waiting list for this network the next time you visit ManyStories.com/share.
Feature Stories on Your Profile
Something that many writers have asked for is the ability to feature their favorite stories that they've shared atop their ManyStories profile. Now, you can do exactly that.
As a writer, you can now feature your favorite two, three, four, or five stories that you've shared on your profile. These stories will be shown at the very top of your profile in a similar style as the stories featured on the ManyStories homepage. When your readers visit your profile, these stories will appear first before anything else loads.

How to Add Your Featured Stories
Visit your profile at ManyStories.com/me, and click the layout icon in the bottom right corner of your profile card:
That will present the following view at the top of your profile:
From there, simply search stories you've shared, click the green "Feature" button next to the ones you want to feature, and click the "Save" button when you're ready:
Editing Your Featured Section
At any time, you can edit your selection to rearrange your featured stories. Just click the layout button again, and you'll be shown your current featured section so you can unfeature some stories and feature new stories.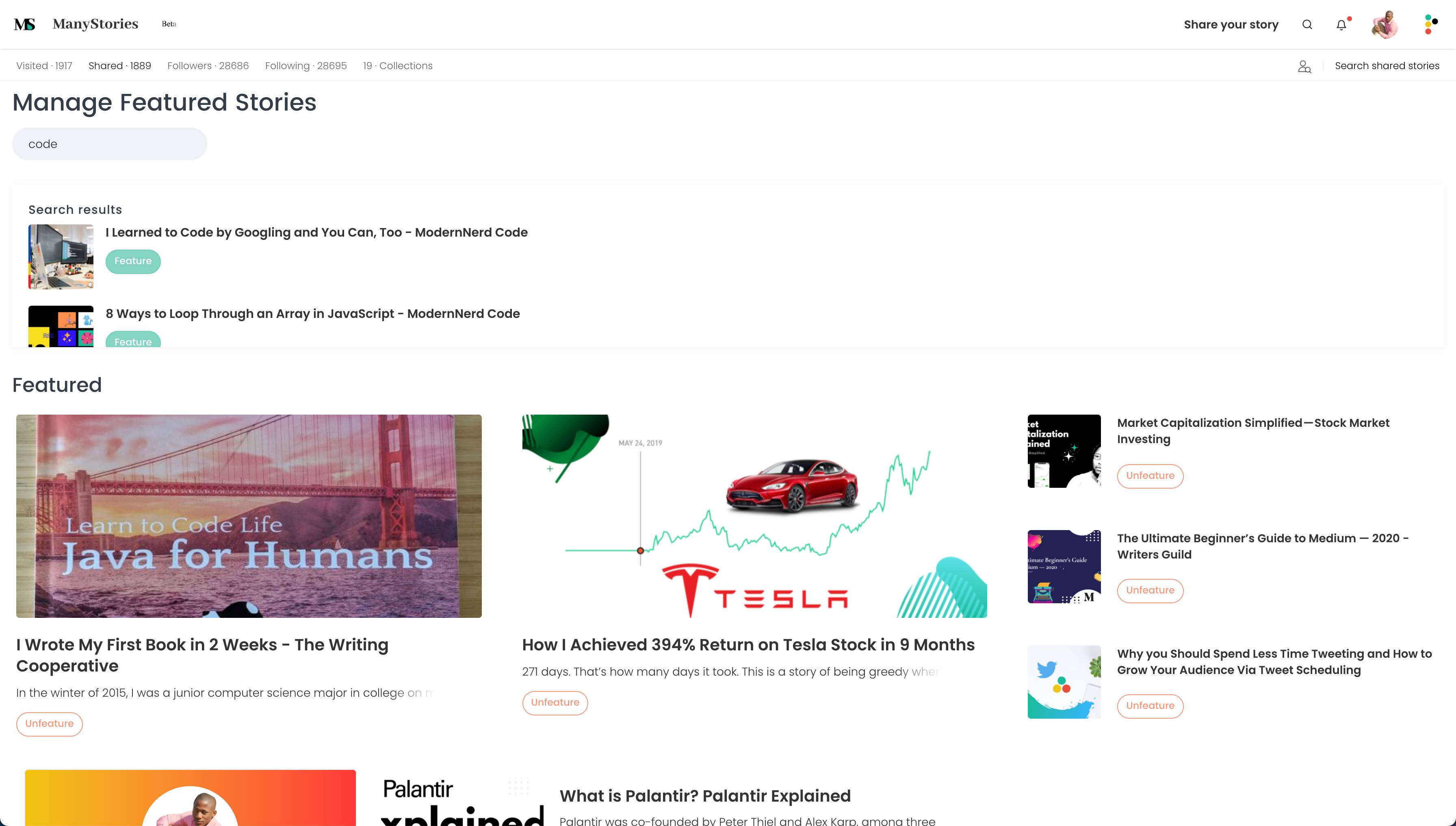 Last Words
We hope these developments will help you reach more readers with your stories and develop lasting relationships with your audience. We look forward to building out the ManyStories Related Stories Network with you all as soon as we receive enough interest.

If you haven't joined the waitlist, yet, we hope you will. If you'd like to help us gather more interest, feel free to share the waitlist with your own friends and writers you think would be interested.

Thanks for your continued engagement and support of this community.